These oh-so-sweet baby shower themes for girls are just what you've been looking for.
If you're on a budget, but don't want to spend hours trying to DIY decorations with glue sticks and construction paper, I've got you covered.
I'm planning my baby shower right now, and I've put together some "theme-spiration" including affordable supplies you can grab on Etsy or Amazon.
Theme #3 is the one we're rolling with to welcome my sweet baby girl.
Alright, let's get into it.
---
This post may contain affiliate links. Our disclosure policy is a snooze fest, but feel free to check it out here.
---
#1. Wild One Theme
This is one of our favorite baby shower themes for girls because there are so many ways you can pull it off. You can go with richer greens and neutral colors, or make it bright and light with beautiful pastels.
The look below took a very sweet spin on this theme by sticking with gorgeous pastels in the balloon garland, accents, and food.
A couple of balloon animals tops it off, creating a perfectly calm environment as mom-to-be gears up for what's sure to be a very wild ride.
View this post on Instagram
Things to make your party extra sweet:
Beautiful Signs for Every Station
Carry this whimsical theme throughout every part of your shower decor. These signs can be printed and framed, or printed on thick poster board and put on an easel. This set can be found on Etsy.
What I love most about this set is that it's downloadable, which means you can shop around for the cheapest printing options, or print it at home.
Get Personal
Make sure guests know they're in the right place with an adorable personalized sign that you can put in the front of your house or the shower venue.
This sign also makes a great keepsake for the parents to be that they can hang in the nursery. See it on Etsy Now.
Sweet Wishes for the Princess
These beautiful keepsakes will be perfect to share with baby girl when she's older. Guests can write sweet wishes for her on these cards. She'll be reading them for years to come.
Recommended Products:
Some other decorative pieces you may like.
| | | |
| --- | --- | --- |
| Pastel Balloon Garland | Inflatable Balloon Animals | |
#2. BOHO Rainbow Baby Theme
I'm currently pregnant with my rainbow baby, and Boho Rainbow was one of the baby shower themes for girls at the top of my list.
Whether you have similar sentimental ties to this theme, or you're just in love with the beautiful combination of pastels, I'm with ya.
What I like most about this theme is that you can go big with a giant rainbow banner or cutout like the one below. Or if you don't have the space for that you can download cute rainbow printables and use them throughout your decor.
Then all you'll need is some complimentary pastel balloons, table decorations, and food items that match your color scheme.
View this post on Instagram
Things to make your party extra sweet:
Rainbow Balloon Garland
This super adorable rainbow balloon garland is the perfect piece to take center stage near the cake table, gifts table, or as the backdrop for the photo booth.
Boho Rainbow Invitation Kit
Everything you need to let guests know about the upcoming shower in one simple kit? Umm, yes please.
This set can be found on Etsy and includes invitations, thank you cards, diaper raffle cards, and a books for baby card.
Boho Rainbow Baby Shower Bundle
Think of this bundle as a one-stop shop party box. With everything from themed cake and cupcake toppers, to matching garland, confetti, and favor boxes.
#3. Tropical Paradise
This is one of those baby shower themes for girls that's so, fun, festive, and bright.
I love this theme for summer babies and spring showers. The shades of pink, red, oranges, and green set the stage for an exciting atmosphere and cool vibes.
When choosing menu items, dive into tropical favors like pink lemonade or a pina colada party punch for your drink selections. Chocolate covered strawberries or a nice fruit salad make light and refreshing snacks your guests will devour.
Spread the festive cheer by giving each guest a tropical lei to wear upon their arrival, or making a beautiful flower crown for the mommy-to-be.
View this post on Instagram
Maximize the tropical vibes with these:
| | | |
| --- | --- | --- |
| Lei Necklaces | Tropical Balloon Garland | Tropical Game Pack |
#4. Mom-to-Bee Theme
This theme is sweet as honey. It's perfect for baby girl, but also makes an excellent option for a gender neutral shower.
You can go with a combo of bright and pastel yellows, white, and golds. You can also add in some bold black accents to make this theme stand out.
Cute honey jars or "mom-to-be" themed glasses make such cute and useful favors for your guests.
Simple decor pieces like using sunflowers for your table centerpieces make for a playful and beautiful atmosphere. If you don't have enough vases at home, you can get some from your local Dollar Store.
View this post on Instagram
Things to make your party extra sweet:
Party Themed Games
Whether you're doing a virtual or an in-person shower, the right baby shower games will be a blast for both you and your guests. And in keeping with the mama-to-bee theme, you can get a game pack like this one from Etsy which includes over 22 games.
Sweet Notes for Mom
Guests shouldn't be the only ones going home with a sweet treat. Mom-to-bee deserves something that'll help her remember this special occasion for months to come, especially during those middle of the night diaper changes.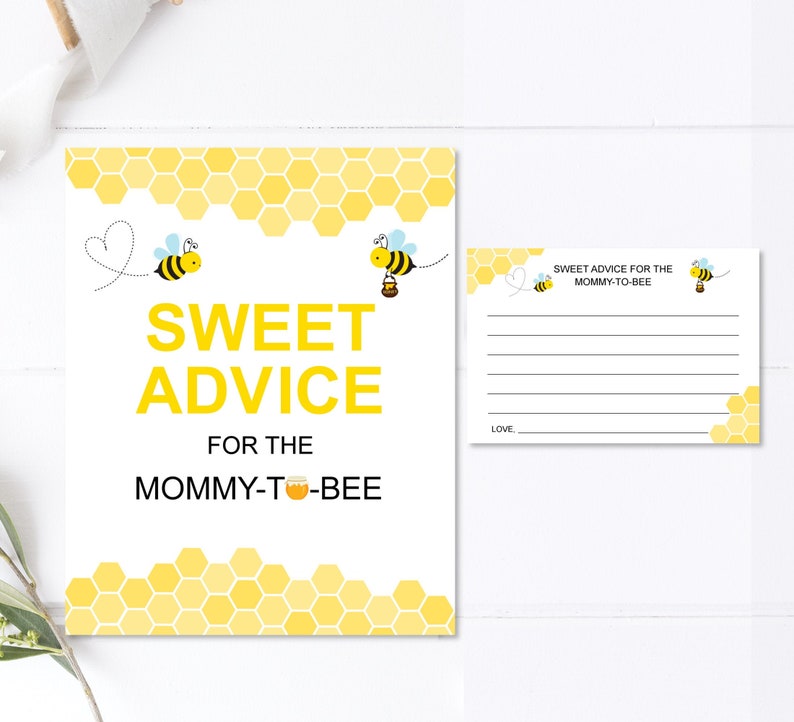 Whole Bee Themed Party Pack
All the decorations you need, including cake toppers, balloons, and an adorable mom-to-bee banner… umm, yes please! If mixing and matching isn't your thing, then pre-made party packs may be exactly what you need. You can get this one or something similar on Amazon.
#5. Twinkle Twinkle Little Star
This baby shower theme is just as dreamy as the baby girl that'll be making her debut soon.
Set the stage so that guests know they're in the right place with a personalized shower welcome sign.
For an event that's sure to shine, you can set the mood with floating tea light candle centerpieces, centerpiece sticks that can double as photo props, and/or ballon centerpieces.
When you set up your drink station, put a glass of something sparkly in your guests hands. Sparkling cider or champagne make excellent options.
Send guests on their way with a party favor that will keep the dreamy vibes going like these sweet themed personalized candles.
View this post on Instagram
Create the perfect Dreamy Space with These:
| | | |
| --- | --- | --- |
| Twinkle Twinkle Backdrop | Starry Decorations Pack | Photo Prop Sticks |
BONUS: Woodland Theme
It's no surprise that the Woodland Theme is one of the most popular baby shower themes for girls.
Similar to the" Wild One" theme we included earlier, it's the perfect way to welcome baby girl in style.
Decor with warm shades of green and some cute woodland creature cut-outs, are all you need to get started with this theme.
You can bring in the scents of the outdoors with a DIY Essential Oils Perfume Bar. Oils like Eucalyptus, Peppermint, and Bergamont will make relaxingly aromatic mixes. Plus they'll make excellent favors for guests to take home.
View this post on Instagram
Decoration Inspiration:
Woodland Banner or Backdrop
Perfect for behind the cake table, or to set the scene behind the mom-to-be's table, this banner is the perfect addition for your Woodland theme. Grab this one on Etsy.
Woodland Diaper Cake Kit + Decorations Pack
This woodland theme diaper cake kit + has everything you need to make an awesome diaper cake, plus includes decor items like a Welcome Baby Banner, Woodland Animals Banner, and themed balloons. Check it out on Etsy.
DIY Printable Centerpieces
Add a little whimsy to the table decor with these adorable woodland creature centerpieces. Just print, cut, and place in a mason jar with acorns in it. To complete the look wrap some twine or rope around the neck of the mason jar.
How to cut down on your party planning time
Once you've chosen the perfect shower theme, it's time to start gathering supplies and decorations. Consider these things:
1. The Shower Venue
Where you're hosting your baby shower determines your decorating strategy.
If you're doing a virtual shower, a simple banner or balloon garland set will make the perfect backdrop for your video call. Since guests will only have a very narrow view of mom-to-be's environment, it makes things much simpler.
If the shower's taking place at someone's house, you'll want to cover the primary rooms where guests will congregate.
Think about getting simple centerpieces for the tables, signs for the different stations, and decorating hot spots like the cake and food table.
2. The Entertainment
Party themed game packs are one of my favorite solutions for making game-play prep quick and easy.
You can get large packs with dozens of games to choose from for a seriously affordable price on Etsy. All you have to do is download and print the games you want.
You can also buy pre-printed game packs on Amazon for slightly more. But you'll save yourself a trip to your local printer.
3. Your Time and Budgetary Limits
Planning a shower can feel overwhelming, especially if you already have a lot on your plate.
To make things easier, start early, ask for help as needed, and determine what you can realistically do.
For example, would it be easier for you to cook for the shower or get it catered?
Are you super crafty and want to DIY your decor, or is buying a themed decor pack more up your alley?
If you're on a budget, the Dollar Tree, Amazon, and Etsy are my go-to places to get decorations.
Be realistic about any financial or time constraints you have and do what works best for you.
Conclusion
There are so many baby shower themes for girls to choose from, but we think these are some of the absolute cutest.
Once you've crossed choosing a theme off your checklist, you can start sending out invitations, putting together your decor plans, and choosing super fun perfect games and activities.
For seamless planning, remember to start 6-7 weeks ahead of time, and communicate early and often with mommy-to-be. This is her special day, so getting her input will make things much easier for you.
Mom-to-be is sure to be tickled pink with all the work you put in to celebrate her and her baby girl.