These baby shower ideas for boys are bound to leave you bubbling with inspiration.
With your little prince about to make his big debut soon, it's time to choose the perfect theme to welcome him in style.
I'm currently planning my baby shower right now, and although I'm having a baby girl, I couldn't help but gush over some of these adorable ideas!
You may completely fall in love with one idea, or end up mixing and matching from several ideas.
Either way, by the time you're done with this post, choosing the perfect ideas for baby boy's upcoming shower will be a breeze.
Alright, let's get into it.
---
In this Post:
---
This post may contain affiliate links. Our disclosure policy is a snooze fest, but feel free to check it out here.
---
Top 5 Baby Shower Ideas for Boys
#1. Safari Theme
The parents-to-be are about to embark on a wild adventure and this theme sets the stage.
The theme below nails the Safari look with gorgeous shades of green and brown.
View this post on Instagram
The Safari theme is one of our favorite baby shower ideas for boys because it's so easy to incorporate into every aspect of your shower.
If you wanna roll with the safari theme, bust out your favorite jungle characters in the form of large animal balloons, stuffed animals, or cut-outs.
Jungle Juice (virgin or with alcohol) is a delicious theme inspired drink that will make a nice addition to your drink station.
Individually wrapped animal themed cake pops or cookies would make for excellent party favors.
And you can get as wild as you'd like with this theme. From Safari themed invitations to themed decorations.
This Safari decoration kit is certain to make a statement and you can get almost everything you need in one box.
#2. Teddy Bear Theme
This baby shower idea is almost as cute as that sweet baby boy will be.
Check out the Instagram picture below for some inspiration.
They pulled this look off with soft shades of brown and white. And of course, a giant stuffed teddy bear plus teddy shaped cake toppers.
View this post on Instagram
Feeling this theme? You can pull it off by using something like this all-in-one teddy bear themed shower decoration kit.
Mini stuffed teddybears on the table will make for great additions to your centerpieces.
Gummy bears in little bags or boxes will make extra cute favors. You can even add a sweet tag saying, "thank you beary much for coming."
Instead of just using regular teddy bears, you can go with a Winnie the Pooh themed shower.
#3. Oh Boy, Baby Shower
This is the quintessential baby shower idea for boys.
It's simple, classic, and cute. If doing an elaborate theme is not your thing, doing this simple "Oh boy" theme may be just what you're looking for.
Check the Instagram post below for inspiration.
They achieved this look with a simple sign and a short balloon garland made with dark and light shades of pastel blues, and white.
View this post on Instagram
Does the "oh boy" theme catch your fancy?
If so, you can pull it off with a beautiful blue, white, and silver balloon garland and baby block balloon box set.
This theme is less about specific design elements and more about incorporating your classic colors into your decorations. Explore shades of blue, white, and silver with everything from your invitations to the cake and cupcake decorations.
#4. Nautical Baby Shower Theme
This is another baby shower ideas for boys that's too cute to resist.
The couple below prepared for the upcoming arrival of their little sailor with this adorable nautical theme.
They got creative with this – check out those mini blue and white paddles! It's so adorable.
View this post on Instagram
This is one of my favorite themes because there are so many creative ways to incorporate it into your baby shower.
You can greet guests with a "Welcome Aboard" or "Ahoy it's a Boy" sign.
Nautical themed paper lanterns, streamers, and balloons, can be easily added around the shower venue.
A decorations pack like this one has everything you need to get started.
#5. Little Man Theme
We saved one of the best for last.
This theme is probably the one I'd go with if I was having a baby boy.
I've seen this theme done beautifully with deep navy blues as the base color.
At the shower in the photo below, they went with a classic black, white, and gold approach.
Talk about a tastefully done and beautifully executed event!
View this post on Instagram
If you decide to move forward with the Little Man idea for baby boy's shower, you'll probably want to start by choosing your color scheme.
You can get cake or cupcake toppers in the shape on mini top hats or mustaches.
To carry your theme throughout the entire guest experience, you can start by sending out adorable little man invitations.
During the games and activities part of the agenda, continue the theme with these adorable themed game packs.
Send guests home with adorable shower themed favors that they can actually use.
Decoration ideas for baby boy's shower
Once you have an idea of the theme you wanna go with, it's time to start pulling it together.
Unless you're hiring a party planner, you'll need to get your creative juices going so you can create a beautifully decorated space.
The good news is that even if you're not very creative or crafty, puling off a gorgeous shower isn't hard. (And that's coming from someone who got a C in art class. If I can do this, anyone can. lol)
Here are some general ideas to make decorating for baby boy's shower simple and easy.
#1. Take advantage of party theme packs.
You can get an entire party pack like the one pictured below from Amazon.
They come in a a variety of themes and you can usually get them for under $30 .
You can go with something easy to hang up like a large backdrop, or a big balloon garland (just be prepared to spend some time blowing up balloons before the shower).
VIEW ON AMAZON
#2. Get Themed Invitations and Thank You Cards
It's a simple but elegant way to carry the theme of your shower from beginning to end.
Etsy is my favorite place to get gorgeous invitation sets. You can easily find printable invitations or order pre-printed invites that are already done for you.
Instead of purchasing them separately, try to find a pack like the one below that includes invitations, thank you cards, and diaper raffle or book cards.
I like the options on Etsy better, but you can find some really nice invitation sets like the one below on Amazon.
VIEW ON AMAZON
#3. Look for easy and affordable ways to carry the theme
Let's face it, the cost of a shower can add up really quickly.
If a limited budget isn't an issue for you, then do your thing girlfriend!
If however, you need some creative ways to keep the cost low, I've got you covered.
Printables are an awesome way to create welcome signs, invitation sets, game packs, and much more. If you go on Etsy you can easily find shower related printables for seriously affordable prices.
Often times you can even personalize those printables at no extra cost.
You can shop around for places to print your stuff, hello Walmart, which means you can often get things printed for cheaper.
When it comes to decorations, don't underestimate your local Dollar Stores or thrift stores. For example, if you want to use flowers for your centerpieces, you can often get an inexpensive set of vases from Dollar Tree.
Just get creative and shop around.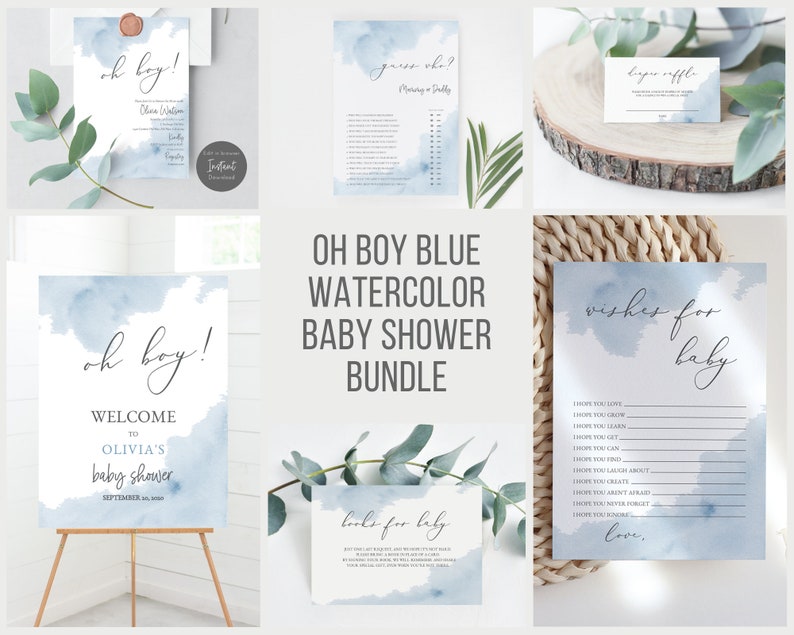 VIEW ON ETSY
Easy and Delicious Menu Ideas
Planning baby boy's shower leaves you with a lot to figure out including menu ideas.
First things first – are you catering the event, cooking yourself, or doing a combination of both?
Before you make your decision, keep any budgetary or time constraints in mind.
Below's a list of some staple items you can serve at the shower.
Here are our top 10 quick and easy finger foods that are affordable and easy to buy or put together:
Fruit Salad
Vegetable Tray
Chips and Guac
Mini Sandwiches
Chicken Wings
Mini Quiches
Cupcakes / Cake
Donuts
Juice / Punch
Mimosas
For more menu inspiration, check out this article on The Spruce.
3 Best Tips for Planning a Shower Quickly and on a Budget
Okay, now that we've talked about themes, invitations, decor and menu ideas, let's talk about how to do it all without getting overwhelmed.
Here are our 3 best tips for planning baby boy's shower quickly and on a budget.
Start early – On average you want to start planning your shower about 6-7 weeks before. Use this timeline to help you schedule out all your planning activities.
Delegate and ask for help – Sometimes you can't do it all, and that's okay. Don't hesitate to ask someone you trust to pitch in and help you.
Shop around – To find the best prices on everything from invitations to your big decor pieces, take some to shop around. If you're artsy, consider doing some DIY projects where possible. Also, explore different vendors. For example, instead of going to a fancy bakery to get the cake, you may be surprised to find that your local grocery store makes beautiful and delectable cakes that are perfect for the occasion.
Also, to make sure you plan a baby shower that mama-to-be will love, make sure you get her input as needed. This is her special day and the clearer you are on what she wants, the better her experience will be.
Conclusion
There are so many baby shower ideas for boys to choose from, but we think these are seriously some of the most adorable.
Once you've chosen a theme and crossed that off your baby shower planning checklist, you can start sending out invitations, putting together your decor plans, and choosing games and activities.
Remember, start early and take it in stages. Don't let planning the shower overwhelm you.
All your work will pay off and mama-to-be is sure to be grateful for all you've done.
I hope this list helps you and I'd love to know which baby shower idea you're going with. Whether it's one from this list, or another one entirely, feel free to let me know in the comments.