I'm not sure who came up with the idea for a diaper raffle, but someone should give them a Nobel Peace Prize ASAP.
Okay, maybe not the Nobel…
But the point remains that whoever thought of this has saved new parents everywhere plenty of money and time.
Every parent knows these 2 unavoidable facts of life:
Baby's poop a lot.
The cost of diapers adds up really, really fast.
How fast? Just check out this nifty diaper calculator for a quick reality check.
Having a diaper raffle at your baby shower is an awesome way to build a stash of one of the things you'll be reaching for the most during your sweet baby's first year.
Keep reading to find out everything you need to pull off a tasteful diaper raffle.
---
In this Post:
---
What is a diaper raffle?
Simply put, a diaper raffle is a traditional baby shower activity that lets guests bring a pack of diapers to your shower, and in exchange they're entered into a raffle to win a prize.
They are super easy to host and just as easy for guests to participate in.
They're typically done at in-person baby showers, but 2020 changed the way we do a lot of things.
So if you're not able to have the big baby shower of your dreams, rest assured that you can still do a diaper raffle at virtual or drive-by shower. You can have guests ship a pack of diapers to you directly or, order it online at a store close to you so that you can pick them up.
How to Host a Diaper Raffle in 4 Easy Steps
Diaper raffles are super easy to do, but there are a couple things to keep in mind.
You never ever want to make your guests feel obligated to give you a gift or participate in your raffle. Doing so could be seen as distasteful and make your guests super uncomfortable.
Instead give your guests options.
Having options will make your guests feel more comfortable and allow them to support you in the ways that work best for them.
Alright now that we've got that out the way, let's get down to the 4 simple steps for hosting a diaper raffle.
1. Tell your guests about the Diaper Raffle
Include a note at the bottom of your baby shower invitation, or include a separate card with the invite telling guests about the diaper raffle.
PRO TIP: Make sure you include clear instructions about how the diaper raffle works. 
Example. "You get one raffle ticket for every pack of diapers you bring. The more you bring, the greater your chances of being our lucky winner."
PRO TIP: If possible, choose the prize ahead of time and tell guests what the prize is. Doing so, could increase excitement and participation. 
If wordplay isn't your jam, use one of these diaper raffle poems to let guests know about it.
2. Add Raffle Tickets to Your Invitation
Find raffle tickets that compliment the theme of your baby shower on sites like Amazon and Etsy.
Add the raffle tickets to the invitation.
Guests can fill them out and bring the tickets with them to the shower.
PRO TIP: Have extra tickets at your diaper raffle table. Guests who forgot to bring their ticket or who brought multiple packs of diapers can easily fill out their tickets and join the raffle. 
3. Set up your Diaper Raffle Table
The diaper raffle table is the drop zone where guests drop off their diapers and their raffle tickets.
Your raffle table can be nicely accessorized with elements from your baby shower theme.
In addition, you can include:
A nice diaper raffle sign
Extra raffle tickets + pens
A bowl for guests to put their raffle tickets in
4. Choose a Winner and Give them Their Prize
When you're ready, pick a winning raffle ticket and give the lucky guest their prize. Voila! It's as easy as that.
10 Diaper Raffle Wording Ideas
So, how exactly do you invite guests to participate in the diaper raffle? Well, here are some clever and cute wording ideas.
#1. "We're having a diaper raffle! If you want to play, please bring a pack of diapers on the special day."
#2. "We have a request. We hope it's not too hard. Please bring a pack of diapers, instead of a card."
#3. "You can bring a pack of diapers in any size, for the chance to win an awesome prize."
#4. "Diaper Raffle" is the name of the game. Please bring a pack of any size to enter your name."
#5. "Wanna pamper mom-to-be? You can bring her a pack of diapers for free."
#6. Wanna support the parents-to-be, with one thing you know they'll definitely need? Bring them a pack of diapers for free.
#7. "Mom and dad will be changing their precious baby around the clock, for that they'll need a big diaper stock. If you want to make their diaper changes a breeze, bring a pack of diapers to put their minds at ease."
Rhymes not your thing? Consider one of these diaper raffle wording ideas instead.
#1. "We're having a diaper raffle! If you want to play, bring a pack of diapers to the shower. Each pack gets you one entry into the raffle."
#2. "We're shaking things up and giving away an awesome prize to one lucky winner. To enter, fill out your diaper raffle card and bring it to the shower along with a pack of diapers. (Any size diaper is fine)."
#3. Your presence at the shower is all the parents need. But, if you'd like to bring a gift, please bring a pack of diapers of any size.
PRO TIP: Encourage guests to bring diapers of multiple sizes so the parents will have a nice variety. Babies grow fast, so having different sizes will be super helpful throughout baby's first year. 
5 Diaper Raffle Prize Ideas
So you've got your diaper raffle planned out and guests are ready to participate.
Now, it's time to choose an awesome gift, and don't worry, you don't have to break the bank for this.
Choose a gift that you'd want to receive if you were the winner.
Some ideas to get you started (Each idea is under $40):
#1. Self Care Gift Box – You can order one online from a site like Crate Joy, (this one has amazing reviews). Crate Joy is a subscription service, so you can purchase it and then immediately cancel it so you're not charged again. Or you can get creative and make your own gift basket. You can include things like a nice candle, bath bombs, face masks, etc…
#2. A Gift Card – A gift card may be the way to go, especially if you're having a co-ed shower. You don't have to worry about getting something too gender specific or getting a gift that someone can't use. You can easily get an Amazon gift card, a gift card to a local popular restaurant, or somewhere more creative.
#3. DIY Mimosa Kit – This idea is super easy and cute. All you need to do is make a gift bag with a small bottle of champagne, a mini orange juice, fancy straw, and a mason jar or a disposable champagne flute.
#4. DIY Coffee Lovers Gift Bag – A simple, inexpensive, but nice gift is a coffee lover's gift basket. Simply get a gift bag, a reusable coffee cup like this one, and a $5 – $10 gift card to a nearby coffee shop.
#5. DIY Wine Lovers Gift Bag – Get a bottle of wine, and a couple of stemless wine glasses and put them in a small gift bag or box with a cute thank you note.
Diaper Raffle Signs and Tickets
I know that DIY is not everyone's thing, so here are some done-for-you diaper raffle signs and tickets. I included bundles for the 5 most popular baby shower themes.
All of these are available on Amazon and are Prime Eligible.
#1. Dinosaur Baby Shower Sign and Raffle (Etsy)
#2. Pink Floral Diaper Raffle Sign and Tickets (Etsy)
#3. Rainbow Baby Raffle Sign and Tickets (Etsy)
#4. Safari / Woodland Baby Raffle Sign and Tickets (Etsy)
#5. Tropical Baby Raffle Sign and Tickets (Etsy)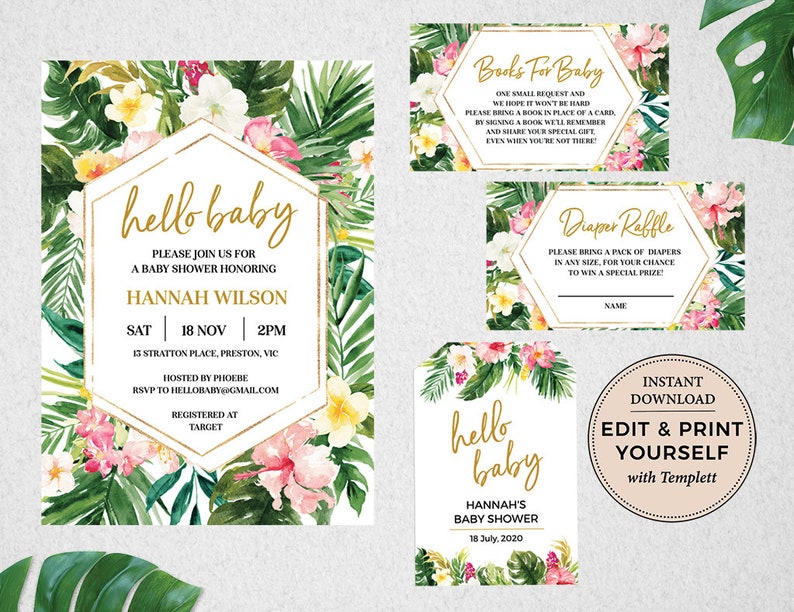 Why your guests will love the diaper raffle
If you're still on the fence about doing a diaper raffle, it may be because you're concerned a raffle could be considered tacky.
After all, you're essentially telling people what to gift you.
However, the truth is, most guests appreciate knowing exactly what you need.
It's almost impossible to buy a great gift for someone without truly knowing what they need and want the most.
A diaper raffle takes all the guess work out of giving the parents-to-be a truly useful gift.
Bonus reasons guests will appreciate the diaper raffle:
It's convenient. A quick trip to the store or a few seconds shopping online, and they can quickly get a pack of diapers.
It's fun. Everyone loves the chance to win something. A raffle is an easy way to put a smile on the lucky winner's face.
It helps the parents to be. We all know how expensive diapers can be, and how many diapers newborns go through. Guests know that their investment will make a huge difference for the parents.
It's affordable. A pack of diapers is a relatively inexpensive gift, making it feasible for guests who want to support, but may not be able to get a more expensive gift.
A Diaper Fund (Diaper Raffle Alternative)
If you're still not sold on a raffle, you have other options.
You can choose to create a diaper fund instead.
A diaper fund lets guests give you cash so that you can buy diapers for baby as needed.
3 reasons to do a diaper fund instead of a diaper raffle:
#1. You get the brand of diapers you want.
Some people don't feel comfortable asking guests to buy particular brand of diapers for the diaper raffle. I am one of those people.
Also, you never know until you have your baby what diapers will work best for them. Some diaper brands are better for chunky babies, while others are better served for petite babies. You won't know what size your baby is until that sweet bundle of joy has made their arrival.
Doing a diaper raffle could mean that you end up with boxes of diapers that you don't use, which would be disappointing.
However, if you do a raffle, you can experiment with different brands until you find the brand that works best for you and baby.
#2. You won't have to worry about storage.
Getting 6 months worth of diapers at your shower is awesome… if you have someplace to store it.
A diaper raffle wouldn't work well for someone like me, who has limited storage at home. In fact, it would probably stress me out to find a place to keep all those diapers.
Having a diaper fund means that you can buy a few packs at a time, making storage much easier.
#3. You won't have to worry about baby outgrowing the diapers.
Although most people ask for diapers of any size, you could end up with way more of a particular size than you can use.
As you know, babies grow incredibly fast.
Having a diaper fund, allows you to buy diapers as your baby grows, so you have just enough of what you need.
Setting up a Diaper Fund
The parents to be can set up a diaper fund on their registry. Most popular registry services like Amazon and Babylist support diaper funds.
And, if you go with Amazon, they also offer subscription services for diapers that ship monthly and at a discount!
What's Next?
Whether you decide to go with a Diaper Raffle or a Diaper Registry, you can't lose.
Your guests will be able to support you with a gift you and baby will get a lot of use out of.
And, it'll give you one less thing to worry about in the first few months after baby's arrival.
Now all that's left to do is plan and execute!
I hope this post has been helpful and informative for you.
And if you have any questions or comments, let me know – I'd love to hear from ya!